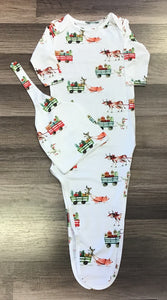 Tickety-Boo Knotted Gown Christmas Cart
The must have layette favourite, a knotted gown. The envelope neck and extra long length with ties at the feet allow easy changing. No fiddly poppers or zips in the night, just a quick knot and back to sleep they go! Including a sweet knotted matching hat!
Christmas Cart with Cows and pigs pulling their carts is just perfect for your little one for the Holidays! Great for Newborn pictures or just having fun dining the Season!  Unisex! 

Made from 95% bamboo viscose and 5% Spandex with the most amazing properties; a super soft and gentle fabric, hypoallergenic, UV protective, moisture wicking and biodegradable.