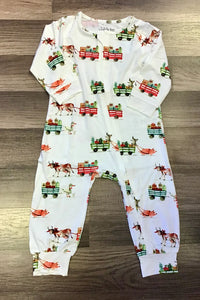 Tickety-Boo Christmas Cart Romper
A must have romper that will be worn time and time again. Super soft and comfy with a full zip - no fiddling with poppers at change time! The zip is covered at the neck so is not visible. Gentle cuffs at the wrists and ankles.
 Prancing Cows and pigs pulling their Christmas Carts with such joy!  Perfect for your little one and so fun! So buttery soft too! Unisex for both boys and girls!  Add a headband for girls and your set to go!
Made from 95% Bamboo Viscose 5% Spandex with the most amazing properties; a super super soft and gentle fabric, hypoallergenic, UV protective, moisture wicking, biodegradable, great insulating properties so warm in winter cool in the summer and a from sustainable crop.