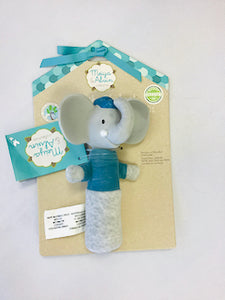 Meiya & Alvin Alvin the Elephant - Soft Squeaker Toy with Rubber Head
A natural rubber head joined with a soft fabric body with squeaker, this Alvin toy is not only easy for little hands to grip, it combines the benefits of sound toys, with a comforting character, with a toy ideal for teething babies.
Sound toys like this Alvin toy can help children explore their senses and start to understand fundamentals of cause and effect.
Size: 7.1in x 4.7in
Age Recommendation: 0+ months
Item Number: 78103
Features: Toy is made from pure natural rubber and cotton fabrics. Certified non-toxic, Phthalate free and PVC free. 
Materials: Pure Natural Rubber ,100% Cotton, 100% Recycled plastic bottle fiber filling
Product care: For full washing instructions see product label. For light cleaning, wipe surface of the toy with soapy water and a damp cloth, air dry and allow moisture inside toys to drain. As a precaution, check toy regularly and do not give to babies or children if worn or damaged. Do not leave natural rubber toys in direct sunlight or in high temperatures.