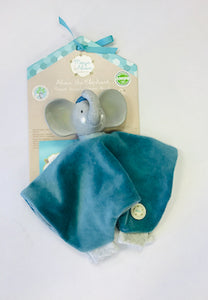 Meiya & Alvin Alvin the Elephant - Puppet Snuggly with Rubber Head
It's a comforter. It's a puppet. This elephant combines a natural rubber head with a soft fabric comforter.  Puppet-play helps children to develop important socialization, listening, and speech skill. And it's soft rubber head is ideal for teething toddlers. The Alvin Puppet Snuggly is soothing to babies and young children.
Size: 9.8in x 4.7in
Age Recommendation: 0+ months
Item Number: 78106
Features: Toy is made from pure natural cotton fabrics. Certified non toxic, Phthalate free and PVC free.
Materials: Pure Natural Rubber, 100% Cotton, 100% Recycled plastic bottle fiber filling.
Product care: For full washing instructions see product label. For light cleaning, wipe surface of the toy with soapy water and a damp cloth, air dry and allow moisture inside toys to drain. As a precaution, check toy regularly and do not give to babies or children if worn or damaged. Do not leave natural rubber toys in direct sunlight or in high temperatures.