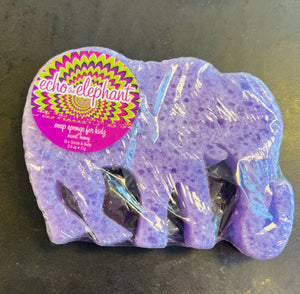 Caren Sponge Kids Echo Elephant
Bath time becomes FUN TIME *Hypoallergenic Make bath time fun every day!
Soap in a Sponge provides 15+ scrub-a-dubs with our clean Sweet Honey fragrance.  The hypoallergenic sponge will cleanse and moisturize even the most delicate skin.  Wet and squeeze sponge under warm water to give BOOKOOS of BUBBLES.  Sponge will soften with use.  Adults should supervise toddler usage.  Age 3+.  Contains no mineral oil.  Not tested on animals.  MADE in the USA.
Fragrance Description - Sugar, spice and everything nice, kissed with a touch of cutie tangerines, drizzled with golden sweet honey and soft vanilla bean.  Great stocking stuffers, great day at school to just to say I love you!