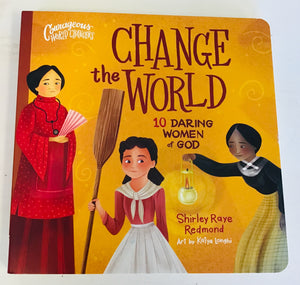 Book-Change the World 10 Darong Women of God
Little ones will learn about ten daring women of God who risked their reputations and lives to stand up against oppression and to help those in need.  

 
This colorful board book introduces children to real-life superheroes who used their God-given talents, along with unrivaled courage and conviction, to stand up against racial injustice, rescue the oppressed, and live out their faith in incredible ways.
 
Mini-bios on brave woman, such as Corrie ten Boom, Harriet Tubman, and Rosa Parks, will inspire little ones to develop a heart of empathy and love for others at an early age.
 
How will your child change the world someday?